Free 6th Grade Christian Homeschool Curriculum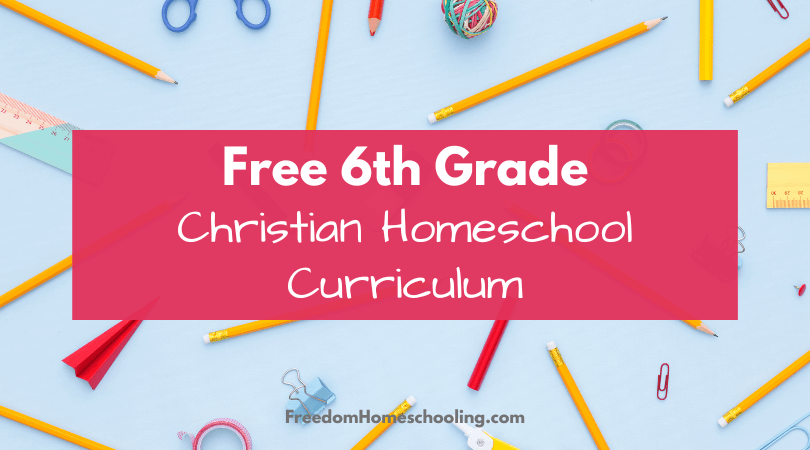 At FreedomHomeschooling.com, we list several free all-in-one-curriculum programs. These programs include every subject your 6th grader will need. Homeschoolers often choose all-in-one programs because of the simplicity they provide. They take care of the planning and curriculum selection for you.
However, many homeschoolers, myself included, prefer to choose a separate curriculum for each subject. This allows us to customize our children's education, choosing materials that fit their learning styles and individual needs in each subject area. Also, I've always enjoyed the variety that a more eclectic approach provides. Using the same approach and materials for every subject can become monotonous for some students.
If you'd like to piece together your own customized free 6th grade homeschool curriculum, visit FreedomHomeschooling.com's main page, and choose a subject area to explore from the menu. On that subject's page, you will find a list of links to free curriculum resources.
Below, I've provided a sample free 6th grade Christian curriculum. This sample curriculum is intended to give you an idea of what a free 6th grade homeschool curriculum could look like. Feel free to make substitutions as needed. If you have other children, you may prefer to study some subjects, like Bible, history, and science, together as a family.
This page contains affiliate links. See our complete disclosure here.
Math
MasterMath teaches middle school math through video-based lessons. Each lesson includes a video lecture, printable worksheets, an online quiz, and links to other websites for practice and further discussion of the lesson's concept. To complete this math curriculum, the parent will need to add additional worksheets or online practice for each concept. While the author recommends an IXL math subscription, IXL is not free. Instead, you can print free worksheets at Dad's Worksheets or have your child practice online at Khan Academy. For more information on using MasterMath, be sure to read their instructions for homeschoolers. Keep in mind that if your child plans to take Algebra I in 8th grade, rather than 9th, they'll need to work through MasterMath's middle school curriculum at a quicker pace.
Language Arts, Geography, and Art
The Good & the Beautiful (TGTB) Language Arts Level 6 covers reading, writing, spelling, literature, grammar, punctuation, art, and geography in one downloadable course. The course download includes the course book, answer key, reader, and geography & grammar flashcards. TGTB recommends that you use their free assessment to determine if Level 6 is the correct placement for your child.
For additional reading, choose books from our 6th Grade Reading List or TGTB's Book List. You should be able to find many of these books at your local library. Or, if you prefer, choose one of these Free Readers for Middle School.
Bible
God's Hand in Our Lives offers 59 downloadable Level 3 (4th to 6th grade) Old Testament Lessons. Each lesson includes a thorough teacher's guide, opening and closing prayer, Bible story, worksheets, discussion questions, memory verses, and a hymn. If you are unfamiliar with the hymn, most of them can be found on YouTube. This curriculum was written for use in Lutheran Sunday Schools, but its layout also works well for homeschool use, and most of the content should work for members of other Protestant denominations. Aim to complete about two lessons per week to finish this curriculum in one school year.
This video from Simply Charlotte Mason describes an easy to use system for memorizing scripture using index cards to organize Bible verses. You may want to consider using this system with your entire family together, not just in your free 6th grade homeschool curriculum. You can choose verses from the God's Hand in Our Lives lessons or what your child learned this week at church.
Science
In Easy Peasy All-in-One Homeschool's Zoology course, your child will learn about the main branches of the animal kingdom. They will study animal habitats, behaviors, diets, and adaptations. They will also study endangered species, classification, mimicry, camouflage, ecosystems, and food webs. The course uses readings, videos, and a variety of online activities. The material is scheduled in 180 daily lessons. Easy Peasy offers this course at two levels. Your 6th grader will be in the upper level, which is designed for 5th through 8th graders.
History
In Easy Peasy All-in-One Homeschool's Ancient History course, your child will study the history of mankind from ancient Egypt through the Renaissance. Some of the topics covered are ancient Egypt, ancient China, Mesopotamia, Babylonia, Maya, Indus Valley, Greeks, Romans, Vikings, middle ages, feudal Japan, Mongols, Renaissance, Reformation, and early explorers. Geography and current events are also incorporated into the lessons. The material is scheduled in 180 daily lessons.
Music
In Easy Peasy All-in-One Homeschool's Music – Ancient course, your child will listen to music from ancient times through the Renaissance. They will study the development of instruments and how music was used in different cultures. They will also learn about wind, string, and percussion instruments and the basics of note reading and rhythm. This art course coincides with Easy Peasy's Ancient History course. The material is scheduled in 36 once a week lessons.
Life Skills
FoolProof teaches financial literacy and consumer skills. It focuses on the power of skepticism and how to identify and neutralize misinformation. Their goal is to instill habits in children that will counter some of the marketing industry's efforts. The middle school program is made up of nine video-based modules. So, this is a short unit, rather than a year-long curriculum. To register for a free account, click "sign up" on the middle school page. Within 24 hours, someone from FoolProof will email you. They will ask a couple of questions to verify that you're a homeschool parent. After you reply, they'll set up your account.
The remainder of this year's life skills focus is on gardening. This is a project the entire family can work on together. How much time and energy you choose to devote to gardening will depend a lot on the space you have available and the climate where you live. The post Teaching Gardening as a Homeschool Elective includes tips for teaching gardening, free courses and guides, and a 16-page printable gardening planner.
Computer Skills
GCF's Computer Basics course teaches hardware and software basics, internet use, computer safety, computer maintenance, and more. The course includes 23 lessons and a final quiz. GCF's Basic Computer Skills course teaches basic computer skills, computer set up, installing & uninstalling software, and more. This course is also made up of 23 lessons but does not include a final exam. To finish both courses in one school year, your student should do one to two lessons per week. Most of the lessons are fairly sort and are made up of text and image-based tutorials. Some also include videos.
If your child doesn't know how to type yet or needs more practice, use Typing.com. This website teaches touch typing through interactive lessons. Your child may start at the beginner, intermediate, or advanced level. The program tracks progress and provides additional lessons for frequently missed keys.
Physical Education, Recess, and Health
Make sure your child gets plenty of free time for active play and exercise. If you would like some ideas, Chapter 3 (page 46) of Physical Activity for Everyone from the Center for Disease Control provides information about how much exercise children need, as well as, numerous suggested activities. If your child plays a sport or takes dance, karate, gymnastics, swimming lessons, etc., these can also be considered part of your physical education program.
Operation Fit Kids' curriculum for 6th through 8th graders teaches the importance of physical fitness and proper nutrition. The downloadable lessons include activities, worksheets, journal pages, and more. This curriculum only has seven lessons, making it a short unit that could be completed at any point during the school year, rather than a complete year-long program.
Other Grades
I hope this free 6th grade homeschool curriculum has been helpful. If you're looking for guides for other grades, you can find them here.
Related Posts
Note: This post was originally published on November 28, 2020 and has been updated for accuracy and comprehensiveness.