Free Homeschool Bible Curriculum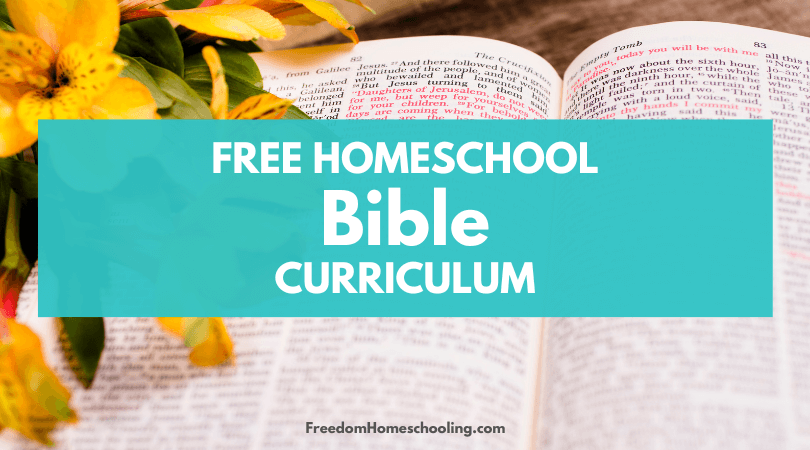 Welcome to our list of free homeschool Bible curriculum! Below, you'll find free homeschool Bible curriculum for every grade.
How to Use the Free Bible Curriculum List
The Bible curriculum on this page is listed in alphabetical order. There is a suggested grade range next to the title of each curriculum resource. These are only approximate, so you may want to also consider resources above or below your child's actual grade.
If you would like to use any of the resources listed below, click on the curriculum's title to visit their website. Then, follow the instructions found there to begin using the resource.
For other subjects, visit our homepage and choose a subject from the free curriculum menu found there. There are options for all the standard subjects and many electives.
This page contains affiliate links. See our complete disclosure for more information.


Free Bible Curriculum
This collection of online books includes a wide range of topics, including creationism, apologetics, and faith. Most of the books are available for free in their entirety; however, some of them are only a preview of select chapters.
The classes are taught using video lectures and downloadable PowerPoint presentations. Vocabulary quizzes are also available.
This book, available for download at Gutenberg, provides a detailed plan for a book by book study of the Bible.
BES offers a large collection of downloadable Bible lessons. The Bibletime series is for children up to age 16, and the Newlife series is for those over age 16. Gleaners is a more in-depth Bible study designed for adults but should also work well for most teens.
Bible Fluency is a multi-media Bible survey course that includes video instruction, teacher's guides, workbooks, flashcards, teaching aids, and memory songs. While all components of the course are available for free download, physical course materials are also available for purchase.
This book, available for download at Gutenberg, is a manual for studying the Bible period by period.
BibleProject offers free videos on every book of the Bible, as well as videos on various themes and how to read the Bible. Additionally, they provide podcasts and a collection of Bible study lessons.
A Biblical history timeline and Bible notebooking pages are available for download.
Calvary Curriculum offers over 300 printable Bible lessons. Each lesson includes questions about the Bible passage, a memory verse, a crossword puzzle, a word search, and a coloring page.
The Children's Six Minutes is a collection of 52 brief children's sermons written by a pastor who felt it was important to include young people in the church service. This eBook also works well for family devotional use.
The 34 lessons in this eBook provide an overview of Biblical and church history. At the end of the book, there are comprehension questions for each chapter.
This Basic Apologetics Course consists of 20 video lectures and printable study guides.
Cynce's Place offers downloadable Bible reading plans, Bible lessons, and scripture copywork. You'll find all of these resources listed under the "freebies" tab of the website.
The courses are taught by seminary professors via video lectures. Once all quizzes for a course are finished, the student is awarded a non-accredited certificate of completion.
Four Bible reading courses are offered: Old Testament, New Testament, Poetry, and Proverbs. Each day's lesson includes a scripture passage to read or listen to and comprehension or discussion questions.
Easy Peasy offers four one-year Bible courses, each covering one-fourth of the Bible. Each day students will read the assigned passage and record their thoughts in a journal.
This collection of Bible lessons can be used in Sunday school classrooms or at home. The lessons include PowerPoint presentations, printable worksheets, videos, activities, and more.
The Biblical Feasts: A Study of the Times of Worship of Our Creator is a Bible study that can be done alone, as a family, or with another group. The eBook covers the feasts of the Lord from Leviticus 23, the calendar used in Scripture, and prophecy.
While these downloadable lessons are designed for use in Sunday school, they also work well in homeschool. The Old Testament Lessons and New Testament Lessons are for grades preschool through 4th grade. The Foundations of the Faith lessons are for 5th and 6th grades.
Lessons on various Biblical topics are available for download.
Bible lessons are taught through audio Bible stories and songs. Memory verses and tests are also included.
Grace Notes offers downloadable studies on books of the Bible and Biblical history courses. Quizzes are included.
Most lessons are available at five different levels. The downloadable lessons include Bible stories, memory verses, prayers, hymns, worksheets, and coloring sheets.
This series of lectures covers how archaeology, history, and science support faith in Scripture. Each lecture includes a downloadable PowerPoint presentation, mp3 recording of the lecture, and a script of the lecture.
Theology 101 covers the origins and development of Western theology, from the Old Testament through the twentieth century, using video-based lectures. The course includes a final exam.
This book tells the story of Jesus's life, as told in the books of Mathew, Mark, Luke, and John.
Journey Everyday provides daily Bible passages to read with accompanying videos, seven days per week. Following the website's reading plan will take a student through the entire Bible in about 22 months. There is also a printable journal available.
This website features a free daily devotional in both audio and text format.
Kids 4 Truth provides daily devotionals in both audio and text format.
These Bible lessons focus on learning Biblical character traits. The lessons include a Bible story, memory verse, prayer, crafts, and other hands-on activities.
Downloadable lessons cover various teen topics, doctrine, character studies, and book studies.
This eBook is a collection of Bible stories from the Old Testament.

This eBook is a collection of Bible stories from the New Testament.
This website provides online Bible Study Guides. These guides include review questions, puzzles, and activities. They also offer printable Journey Through the Bible reading plans. Each printable consists of a schedule for one month of daily Bible reading and a review worksheet.
This website's Bible course provides a plan for families to read through the Old Testament in a 170-day school year. There are questions for older children to answer after each passage.
RLD provides lessons based on current events in real life. While it's designed to be used with Bible-in-Life or Echoes Sunday school curriculum, you can also use the content for homeschool teaching or family devotions.
RedeemTV is a Christian video streaming service. Most of their content is free, as donations fund the service. They offer video Bible studies, Christian documentaries, children's programs, family-friendly movies, and more.
This video from Simply Charlotte Mason describes an easy to use system for memorizing scripture using index cards to organize Bible verses.
This downloadable curriculum includes 160 days of lesson plans, missionary highlights, mission stories, crafts, songs, and a focus on prayer for the lost.
The Toddling Through God's Word Bible lessons include Bible stories, songs, and activities while incorporating math, social studies, fine and large motor skills practice, music, and art.
These videos cover reading the Bible, Christianity in history, theology, Acts, Luke, the Sermon on the Mount, and many more topics.
This Bible curriculum coordinates with the Torchlighters Heroes of the Faith video series. Each downloadable student guide includes puzzles, crafts, discussion questions, and more. The teacher's guides have lesson plans, background information, and answer keys. Torchlighter episodes are available to stream for free at Redeem TV.
The Bible lessons on this website include printable worksheets, activities, videos, and craft ideas. Two sets of lessons are available, one for kids and one for teens.
This website offers four different categories of Bible lessons: Kids World (ages 4 to 12), Youth World (teens), Advanced (adults & mature teens), and Bible Exploration (all ages). Some lessons are in text format, while others are offered in both text and video.
This downloadable activity book features 32 lessons from the Bible.
Unlocked provides daily audio devotions for teenagers.
This classic book, now in the public domain, covers 24 topics that children can relate to, such as growing up, learning happiness, bullies, and The Golden Rule.
Available for download at Gutenberg, this classic collection of children's Bible stories was originally published in 1904.
WBS offers online Bible courses for adults and teens in either an online format, through email, or postal mail. All of these formats are free. Classes for children are only offered through postal mail so that parents will be aware of the content in the course.
This website has an extensive collection of online books covering a wide range of Christian topics.

Never Miss a New Free Resource!
We are constantly adding new free curriculum and resources to Freedom Homeschooling. The best way to make sure you never miss a new free resource is to subscribe to our newsletter using the form below.
Following us on social media, especially Pinterest and Facebook, is another great way to stay in touch and learn when we add new free resources to the site.
Did We Miss Something?
If you know of an amazing free curriculum that we didn't include, please tell us about it. We'd love to take a look at it!
Report an Issue
If you have come across a broken link, a resource that is no longer free, incorrect information, something that isn't working correctly, or any other issue, please let us know so we can fix it. We try very hard to ensure our website is up-to-date and free of errors, but unfortunately, mistakes still happen, and free resources sometimes change or end.
Have Questions?
If you have any questions or need more information, the following pages may be helpful: