Free Homeschool Health & PE Curriculum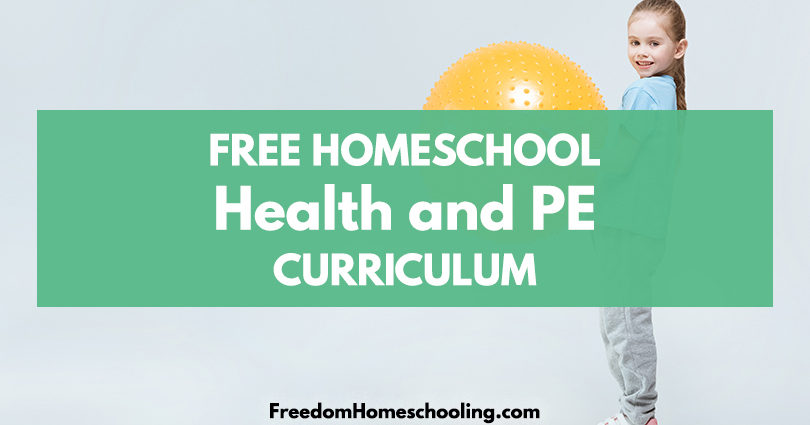 Welcome to our list of free homeschool health & PE curriculum! Below, you'll find free homeschool health and physical education curriculum for every grade.
How to Use the Free Health & PE Curriculum List
The health and physical education curriculum on this page is listed in alphabetical order. There is a suggested grade range next to the title of each curriculum resource. These are only approximate, so you may want to also consider resources above or below your child's actual grade.
All the Christian resources on this list are labeled with a "C." Any resource not labeled as Christian is either secular or neutral and does not teach religious beliefs unless otherwise noted.
If you would like to use any of the resources listed below, click on the curriculum's title to visit their website. Then, follow the instructions found there to begin using the resource.
For other subjects, visit our homepage and choose a subject from the free curriculum menu found there. There are options for all the standard subjects and many electives.
Free Health & PE Curriculum
Agriculture in the Classroom provides lesson plans on many topics related to agriculture, including many on nutrition and food safety. The lesson plans include instructions, activities, and printable handouts.
Alison

(9th to 12th)
Alison offers a wide variety of online courses related to health, fitness, and medicine. While the courses are all free to take, there is also a premium subscription service available that offers additional features.
CK-12 (9th to 12th)
This Teen Health Literacy course uses an online textbook and videos to teach the following topics: nutrition, physical activity, healthy weight, sleep, tobacco use, drug and alcohol abuse, and sex education.
Two courses are offered: Strong & Healthy and Exercise & Nutrition. Both courses are available at two levels. The lower level is for 1st through 4th grades, and the upper level is for grades 5th through 8th. The material is presented using a variety of online resources, including links to articles, videos, and games.
Easy Peasy offers its PE/Health course at four levels, one for each year of high school. Each of the courses is made up of 36 weekly lessons. The lessons include links to health-related articles, exercise videos, and other materials.
This page lists free courses, lesson plans, videos, and other resources for teaching first aid.
The following health courses are offered: Food for Life; Food, Nutrition, & Wellness; Health; and Intro to Health Care Science. The lesson modules are made up of online text, videos, and interactive activities. Links to additional related resources are provided with each module. Assessments are not included.
This organization provides a collection of lessons and activities that teach children about nutrition, exercise, and healthy life choices. Teacher instructions and student printables are included.
The Educators page of this website offers downloadable lesson plans covering a wide variety of health topics. The lessons include activities, printable handouts, and quizzes. The Kids and Teens pages provide numerous health related articles for students to read.
FutureLearn offers numerous online classes related to various health, medicine, and psychology topics. Length and format vary from course to course. The availability of courses periodically changes. Most of the courses are free to join, be there is an option to upgrade in order to access additional benefits, like the ability to qualify for a certificate.
This seven-lesson downloadable fitness and nutrition course is available at two levels. The first level is for 3rd to 5th grades, and the 2nd level is for 4th to 8th grades. The dangers of poor nutrition and obesity are emphasized.
Parallel Alternative Strategies for Students (9th to 12th)
These downloadable courses are designed to help students with special needs succeed. Each course includes a student workbook and teacher's guide. Personal Fitness covers physical fitness, body composition, nutrition, and more. Life Management Skills covers self-esteem, relationships, stress, nutrition, drugs, first aid, consumerism, puberty, the reproductive system, and sexually transmitted diseases.
Sanford Fit's units cover a wide variety of health and fitness-related topics. Each unit is offered at two grade levels; one for kindergarten through 2nd and another for 3rd through 5th grades. The units include printable teacher's guides, handouts, slideshows, videos, and more.
Spoons Across America's Food Explorers Club will email your family every other week with a new activity focusing on a healthy eating theme. A recipe is included that encourages your children to explore, prepare, and taste healthy foods. They also offer Farm to Book Storytime. These video read alouds of children's books and printable activity sheets teach about food sources – how it is produced, grown, and transported from farm to table.
This blog post lists several YouTube channels offering dance and exercise videos. These videos can be used to supplement your physical education curriculum.
If you haven't been able to find a free health or physical education curriculum that meets your family's needs, this post lists several reasonably priced options.
Never Miss a New Free Resource!
We are constantly adding new free curriculum and resources to Freedom Homeschooling. The best way to make sure you never miss a new free resource is to subscribe to our newsletter using the form below.
Following us on social media, especially Pinterest and Facebook, is another great way to stay in touch and learn when we add new free resources to the site.
Did We Miss Something?
If you know of an amazing free curriculum that we didn't include, please tell us about it. We'd love to take a look at it!
Report an Issue
If you have come across a broken link, a resource that is no longer free, incorrect information, something that isn't working correctly, or any other issue, please let us know so we can fix it. We try very hard to ensure our website is up-to-date and free of errors, but unfortunately, mistakes still happen, and free resources sometimes change or end.
Have Questions?
If you have any questions or need more information, the following pages may be helpful: