YouTube Channels That Get Kids Moving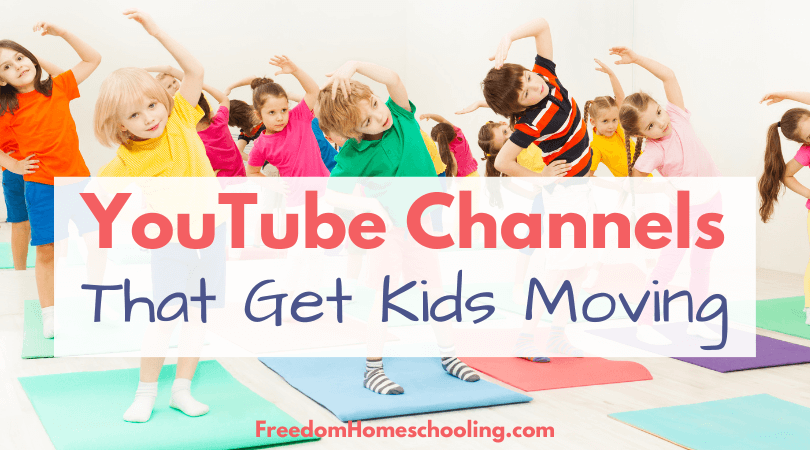 Kids have lots of energy to burn, but unfortunately, sometimes it's just too hot, cold, or wet to get outside and play. When this happens, YouTube dance and exercise videos can be a fun addition to your homeschool day. These videos can also be used for short brain breaks throughout the day or as part of a more formal fitness or physical education program.
Here are some of our favorite YouTube channels that get kids moving. Click on the embedded video to see a sample of what each channel offers, or click the blue title to visit their YouTube channel and browse all their videos.
This channel has lots of fun music videos for kids to dance along with.
These 20-minute workout videos are challenging, without being too difficult for beginners.
In these videos, the instructor tells a story that she acts out in yoga poses. These stories are usually about 10 to 20 minutes long.
Move, learn, dance, and sing with Debbie Doo. These fun songs are perfect for younger kids.
Go Noodles' short and silly videos with catchy music make dance and exercise fun.
You may already be familiar with Kidz Bop music. Kids perform popular songs that have been edited to remove inappropriate content. The dance videos on their channel are an excellent way to get your kids moving.
These short workout videos get kids moving while learning. While some videos, like the example below, are aimed at younger children, others appeal to all ages.
These exercise videos aren't designed specifically for kids, but they are kid-friendly. The music includes clean pop songs and songs by Christian artists, including TobyMac.
This channel has workout videos for all ages and fitness levels. Check out the "PE with Joe" and "Kids Workouts to do at Home" playlists for videos designed for kids.
Meggin is a professional gymnastic coach who offers tutorials, flexibility videos, and workouts.
Coach Sarah streams live ballet classes for all ages, as well as fun & imaginative ballet story videos for children to practice dance at home.
Dovydas's channel offers Zumba dance videos for all ages.
I hope your family enjoys these videos as much as we have!
Related Posts
Note: This post was originally published on October 30, 2018 and has been updated for accuracy and comprehensiveness.
Our Blog



At the Freedom Homeschooling Blog, you'll find homeschool resources and information, tips for homeschooling on a budget, encouragement, and more! Follow us on Facebook, Pinterest, Instagram, and Twitter, so you never miss a post.