Free Homeschool Book Guides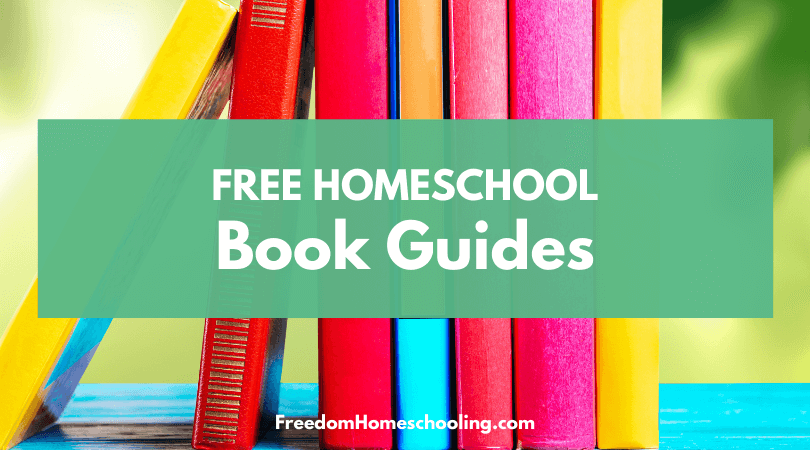 Welcome to our list of free homeschool book guides! Below, you'll find free homeschool book guides for every grade.
How to Use the Free Book Guides Curriculum List
The book guides on this page are listed in alphabetical order. There is a suggested grade range next to the title of each resource. These are only approximate, so you may want to also consider resources above or below your child's actual grade.
All the Christian resources on this list are labeled with a "C." Any resource not labeled as Christian is either secular or neutral and does not teach religious beliefs unless otherwise noted.
If you would like to use any of the resources listed below, click on the curriculum's title to visit their website. Then, follow the instructions found there to begin using the resource.
For other subjects, visit our homepage and choose a subject from the free curriculum menu found there. There are options for all the standard subjects and many electives.
Free Book Guides
August House's lesson plans include comprehension questions, worksheets, and activities.
This organization has created study guides for several of Mr. Lewis's books. These guides include comprehension questions, vocabulary words, and more.
Focus on the Family provides discussion questions for hundreds of books for all ages. This resource is free, but you must sign up to access the index.
There is a free novel study, book guide, lesson plan, or other resources for each book included in our grade level reading lists.
Garden of Praise's book guides provide comprehension questions for several children's books. Some of the guides also include word study or vocabulary exercises.
These downloadable study guides include vocabulary words, comprehension questions, active reading worksheets, writing assignments, and more.
TGC's Christian Guides to the Classics include audiobooks, background information, commentary, topics for discussion or reflection, and more.
Homeschool Share

(Pre-K to 8th) Some C, varies by unit.
Homeschool Share offers downloadable literature-based unit studies.
I Can Read's teaching guides for their leveled readers include discussion questions and extension activities.
Learning Heroes' book discussion guides include discussion questions, vocabulary words, and activity suggestions.
Ms. Colleen's website offers book guides for a large number of board books and picture books, as well as a smaller assortment for early readers, chapter books, middle grades, and young adult books. The guides' content varies by the book, but you'll find things like comprehension questions, writing assignments, crafts, activities, and extensions to cover related math, science, and social studies.
NEA created these materials for book clubs and community programs, but the program also works well for home learning. Each book has discussion questions, reader resources, and a teacher's guide. Click on "archive" at the bottom of NEA's website for more book options. Some of the books may be more suited to adult readers.
These novel study guides include background information, discussion questions, vocabulary, activities, and more.
This website provides lesson plans and printable worksheets for a large collection of books. These materials are mixed in with other resources like articles and book lists. To find the lesson plans, either use the search function or click "next" at the bottom of the screen to explore the archive.
NovelWise provides section worksheets, discussion questions, activities, and more for an extensive collection of books.
These teacher's guides include comprehension questions, essay questions, background information, and more. What's included varies from guide to guide.
This website offers reading comprehension questions for several books or novels at each grade level.
The Prindle Institute offers over 200 discussion guides designed to help introduce philosophy and ethics using popular children's picture books.
Random House's downloadable literature guides include lesson ideas, discussion questions, worksheets, and more. What's included in the guides varies by book.
This website's guides provide discussion questions, vocabulary words, and craft and activity ideas for a large collection of children's books.
This website provides educational materials for an extensive collection of books. There are teacher guides, online puzzles, and printable worksheets. What is offered varies from book to book.
This website provides lesson plans for over 20 books written by Roald Dahl. The lesson plans include activities, worksheets, and more.
This downloadable book includes discussion questions and activities for 27 classic children's books. The guides are arranged in order of increasing difficulty and cover ten picture books, four "transitional" novels, and thirteen longer novels.
Rise to Reading provides comprehension questions for a large selection of books. Most of the books they cover are elementary or middle school level, but they do offer questions for a handful of high school level books.
The book club provides a discussion guide and recipe for each book. Click on "archive" to see all of the available books.
This website has multiple-choice comprehension quizzes for numerous children's books.
Storypath has written numerous book reviews with the goal of "connecting children's literature to our faith story." Each of their reviews includes discussion questions for the book.
This downloadable guide shows parents how to combine story reading, phonics, and writing to help their children become skilled readers.
Wise Owl Factory offers worksheets and activities for numerous books. Most of the books are for elementary-aged students, but a handful are middle or high school level.
Free Ebooks (Pre-K to 12th) Some C, varies by book
This blog post lists numerous sources of free Ebooks, which can be used as part of your literature or reading curriculum.
Free Audiobooks

(Pre-K to 12th) Some C, varies by book.
This blog post lists numerous sources of free audiobooks, which can supplement your literature curriculum.
More Reading Curriculum
This page lists free general reading and literature curriculum for all ages.
On this page, you'll find phonics curriculum for young students who are just beginning to read, as well as older ones who are struggling with reading.
More Language Arts Curriculum
If you are looking for additional resources to complete your language arts program, visit our language arts page. There are free curriculum options for grammar, composition, handwriting, spelling, vocabulary, and poetry.
Never Miss a New Free Resource!
We are constantly adding new free curriculum and resources to Freedom Homeschooling. The best way to make sure you never miss a new free resource is to subscribe to our newsletter using the form below.
Following us on social media, especially Pinterest and Facebook, is another great way to stay in touch and learn when we add new free resources to the site.
Did We Miss Something?
If you know of an amazing free curriculum that we didn't include, please tell us about it. We'd love to take a look at it!
Report an Issue
If you have come across a broken link, a resource that is no longer free, incorrect information, something that isn't working correctly, or any other issue, please let us know so we can fix it. We try very hard to ensure our website is up-to-date and free of errors, but unfortunately, mistakes still happen, and free resources sometimes change or end.
Have Questions?
If you have any questions or need more information, the following pages may be helpful: