Free Homeschool Spelling & Vocabulary Curriculum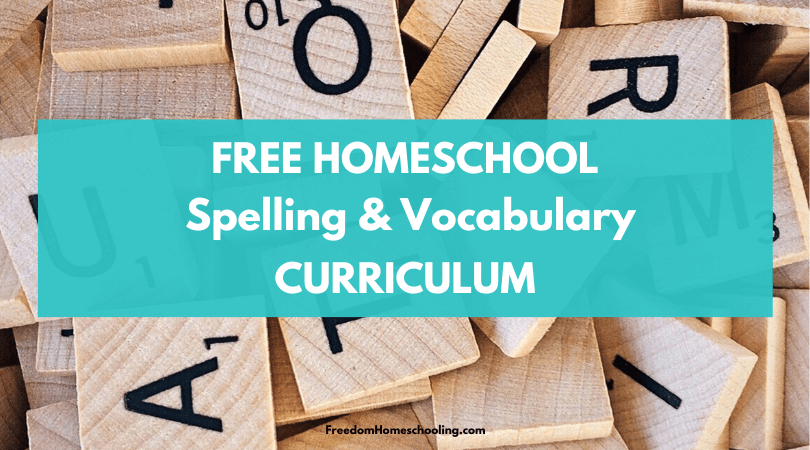 Welcome to our list of free homeschool spelling and vocabulary curriculum! Below, you'll find free homeschool spelling and vocabulary curriculum for every grade.
How to Use the Free Spelling & Vocabulary Curriculum List
The spelling and vocabulary curriculum on this page is listed in alphabetical order. There is a suggested grade range next to the title of each curriculum resource. These are only approximate, so you may want to also consider resources above or below your child's actual grade.
All the Christian resources on this list are labeled with a "C." Any resource not labeled as Christian is either secular or neutral and does not teach religious beliefs unless otherwise noted.
If you would like to use any of the resources listed below, click on the curriculum's title to visit their website. Then, follow the instructions found there to begin using the resource.
For other subjects, visit our homepage and choose a subject from the free curriculum menu found there. There are options for all the standard subjects and many electives.
Free Spelling Curriculum
Each grade level has 30 weeks' worth of spelling lists based on McGuffey's Eclectic Spelling Book. The website offers ten different online practice activities for each week's spelling words.
This spelling journal eBook provides practice for spelling rules and phonographs. It is intended for use alongside another spelling program or prepared dictation. Seventy-five phonogram flash cards are also included in the download.
These downloadable spelling lessons use words taken from the first 35 Bible lessons at Garden of Praise, Stories from the Old and New Testaments.
This book contains spelling lists for each grade, as well as teaching suggestions.
The Cozy Spelling Course is a 36-week text and audio based curriculum that teaches the spelling of 600 7th grade level words. Pretests, exercises, dictation sentences, spelling rules, final tests, and answer keys are included.
This website provides printable spelling worksheets to use with K12 Reader's spelling lists.
K12 Reader's spelling courses for 1st to 5th grade consist of downloadable spelling lists, practice worksheets, and dictation sentences. The spelling words correlate to K12 Reader's weekly reading comprehension worksheets for these grades. Additionally, they offer a downloadable one-year high school spelling course which can be taken at any point during high school or in 8th grade for some students.
This website provides PDF downloads of Treasures Spelling workbooks for 1st through 6th grade and Spelling Power workbooks for 7th through 12th grade. These resources are listed in a long list of other links. Scroll down to the "Completely FREE PDF Work Books" heading and click "Spelling Book" under your child's grade level.
This classic textbook provides 248 lessons on spelling, pronunciation, abbreviations, usage, vocabulary, and more. The lessons begin with letter sounds and then build in difficulty.
This website's series of video-based spelling lessons help students (4th grade and up) improve their spelling by teaching phonetic spelling and syllable division rules. Children reading below the 4th grade level who need spelling help should use phonics lessons.
This website allows students to practice spelling words with interactive games. You can use premade word lists or import your own.
These downloadable workbooks teach both spelling and writing skills. Each workbook has a corresponding parent's guide. Scroll to the bottom of the linked page to download the books.
This website offers online spelling practice, spelling games, and tests. Parents can import their own words or use premade grade level or themed lists.
SWW provides spelling lists, worksheets, activities, and games. The website also has spelling bee word lists and resources.
This website provides themed spelling lists that incorporate the Fry and Dolch sight words. There are 36 spelling lists per grade. Some of the lists also have corresponding printable worksheets.
Free Vocabulary Curriculum
Hand2Mind offers worksheets that teach vocabulary skills.
K5 Learning's collection of vocabulary worksheets helps students improve vocabulary, word recognition, and usage.
This website's large selection of printable vocabulary worksheets covers dictionary skills, Fry sight words, Dolch sight words, phonetics, homographs, homophones, prefixes, root words, shades of meaning, suffixes, synonyms, antonyms, and more.
This downloadable vocabulary journal is used to help children learn and understand new words they encounter in books they read. The author recommends completing three to five entries per week.
VocabTest.com teaches vocabulary through the use of online quizzes, games, and other activities. Printable quizzes and flashcards are also available.
This website provides PDF downloads of Vocabulary Power workbooks. The workbooks are listed in a long list of other links. Scroll down to the "Completely FREE PDF Work Books" heading and click "Vocabulary Workbook" under your child's grade level.
Vocabulary.com is an interactive online platform for developing and practicing vocabulary. Parents may enter a list of words for their children to work on or choose a list that's been created by other users. Parents can also paste a passage of text into the website, and it will choose a list of suggested words to use based on the text.
More Language Arts Curriculum
If you are looking for additional resources to complete your language arts program, visit our language arts page. There are free curriculum options for grammar, reading, composition, handwriting, and poetry.
Never Miss a New Free Resource!
We are constantly adding new free curriculum and resources to Freedom Homeschooling. The best way to make sure you never miss a new free resource is to subscribe to our newsletter using the form below.
Following us on social media, especially Pinterest and Facebook, is another great way to stay in touch and learn when we add new free resources to the site.
Did We Miss Something?
If you know of an amazing free curriculum that we didn't include, please tell us about it. We'd love to take a look at it!
Report an Issue
If you have come across a broken link, a resource that is no longer free, incorrect information, something that isn't working correctly, or any other issue, please let us know so we can fix it. We try very hard to ensure our website is up-to-date and free of errors, but unfortunately, mistakes still happen, and free resources sometimes change or end.
Have Questions?
If you have any questions or need more information, the following pages may be helpful: