Free Homeschool Music Curriculum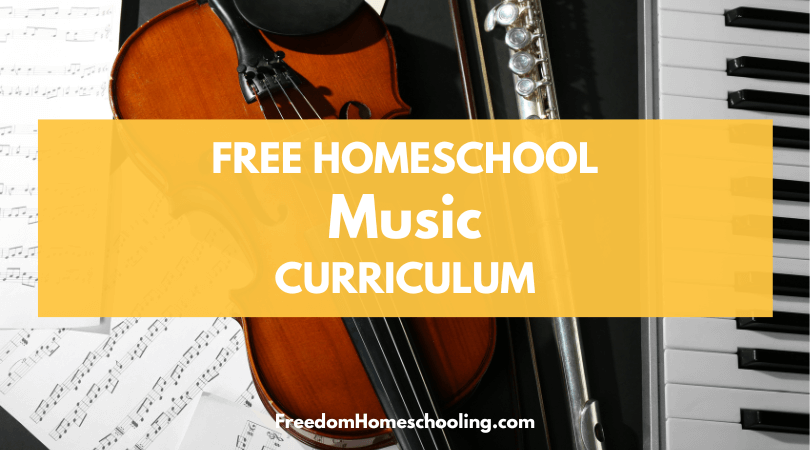 Welcome to our list of free homeschool music curriculum! Below, you'll find free homeschool music curriculum for every grade.
How to Use the Free Music Curriculum List
The music curriculum on this page is listed in alphabetical order. There is a suggested grade range next to the title of each curriculum resource. These are only approximate, so you may want to also consider resources above or below your child's actual grade.
All the Christian resources on this list are labeled with a "C." Any resource not labeled as Christian is either secular or neutral and does not teach religious beliefs unless otherwise noted.
If you would like to use any of the resources listed below, click on the curriculum's title to visit their website. Then, follow the instructions found there to begin using the resource.
For other subjects, visit our homepage and choose a subject from the free curriculum menu found there. There are options for all the standard subjects and many electives.
Free Music Curriculum
The main focus of the website is sheet music, but they also offer a wide range of resources for musicians, including tuners, chord charts, and lessons. Sheet music and other resources are available for over 35 musical instruments and voice. While a paid subscription is offered, 90% of the website's materials are accessible for free.
This website offers numerous guides and tutorials for learning to play the guitar. Many of these tutorials include audio recordings and videos.
This virtual music lab allows students to create music and learn how music works. They can see what sound looks like, learn how melody works, create rhythms, turn drawings into music, and more. This is a supplemental resource rather than a music curriculum.
The podcasts on this website teach about classical composers. The website also offers lesson plans, printable activity sheets, an interactive dictionary of musical terms, games, and more.
Courses are taught using a variety of online sources. Courses offered are Music: Ancient, Music: Early American, Music: Modern, and Music: Geography & Cultures. While these courses correspond with the history and art courses offered by Easy Peasy, they may also be taken on their own.
This semester-long Music Appreciation course is taught using mostly videos.
edX

(10th to 12th)
EdX, a nonprofit created by Harvard and MIT, offers numerous courses covering music theory, music appreciation, and other music topics. The length and format vary from course to course, and availability changes periodically. The courses are free to audit, or certificates of completion are also available for a fee.
Fiddlerman provides video-based violin lessons for both beginner and advanced players. The website also offers a large collection of downloadable sheet music.
Two art courses are available: AP Art History and Visual Arts Comprehensive I. The lesson modules are made up of online text, videos, and interactive activities. Links to additional related resources are provided with each module. Assessments are not included.
Hoffman Academy offers free video-based piano lessons. While all of the videos are free to watch, other features like practice sessions, accompanying printable materials, and learning games require a paid premium membership.
FutureLearn offers several online music classes. Length and format vary from course to course. Availability of courses periodically changes. Most of the courses are free to join, be there is an option to upgrade to access additional benefits, like the ability to qualify for a certificate.
Justin Guitar offers an extensive collection of guitar lessons for beginning through advanced players. The website also offers a few beginner ukulele lessons.
This website offers video-based guitar lessons and downloadable sheet music. The lessons cover all basic guitar techniques.
This 4-week course provides an introduction to drum playing that helps beginners get started. The course includes text-based lessons and practice activities.
Singing lessons are presented through the use of step-by-step guides and video tutorials.
The First Piano Lessons are short exercises disguised as games that combine strengthening and coordination with note recognition and memory. The website provides a guide that explains how to teach the lessons.
These music curriculum guides and lesson plans provide parents with unit studies in all academic subjects. They combine music with math, language arts, science, history, geography, art, and more.
Mr. Henry's video tutorials teach beginners how to play the piano.
These online lessons and interactive exercises teach rhythm, meter, intervals, chords, and much more.
These video-based piano lessons are designed for beginner and elementary level. Most lessons use well-known children's songs. The website also has lessons about famous composers which can be used as a music appreciation curriculum.
Piano Nanny offers piano lessons at starter, intermediate, and advanced levels. The lessons are text-based with some audio recordings. Multiple choice quizzes are included.
Teoría provides tutorials and exercises which teach reading music, intervals, chords, scales, harmonic functions, music forms, ear training, and more.
The introduction to Ear Training course teaches volume & mixing, instrumentation, comparing pitches, solfege, and finding the key of a song. This introduction course is entirely free, as are lesson activities for all courses. Practice and game activities beyond level 3 of the other courses require a premium membership.
Under the Home's courses teach music appreciation using text based lessons with audio recordings of the music being studied.
The virtual music instruments provided on this website allow students to try playing instruments they don't have access to physically. This is a supplemental resource rather than a music curriculum.
Violinspiration offers video based violin lessons, a lessons guide, sheet music, worksheets, and more.
YAPA Kids provides free online courses taught by live teachers. The courses available may change, and some have a waitlist.
Zebra Keys provides over 50 free piano lessons at various levels of difficulty. Each lesson is accompanied by flash animations that allow learners to view and hear songs as well as play along with the animations on their piano or keyboard.
Never Miss a New Free Resource!
We are constantly adding new free curriculum and resources to Freedom Homeschooling. The best way to make sure you never miss a new free resource is to subscribe to our newsletter using the form below.
Following us on social media, especially Pinterest and Facebook, is another great way to stay in touch and learn when we add new free resources to the site.
Did We Miss Something?
If you know of an amazing free curriculum that we didn't include, please tell us about it. We'd love to take a look at it!
Report an Issue
If you have come across a broken link, a resource that is no longer free, incorrect information, something that isn't working correctly, or any other issue, please let us know so we can fix it. We try very hard to ensure our website is up-to-date and free of errors, but unfortunately, mistakes still happen, and free resources sometimes change or end.
Have Questions?
If you have any questions or need more information, the following pages may be helpful: