Free Homeschool IDs
Having student and teacher IDs for your homeschool can come in handy. Many retailers and attractions offer discounts to teachers, and home educators are often included. An ID is an easy way to prove that you are eligible for the discount. Also, many cities across the country have unfortunately implemented daytime curfews. A student ID could be useful if your child is ever questioned about why they aren't at school.
This page contains affiliate links. See our complete disclosure here.
Where to Print Homeschool IDs for FREE
Homeschool Buyers Co-op offers an easy to use ID template. Just enter your information, choose a color scheme, upload a picture, and the website will create an ID for you. You can have them print the ID for you on sturdy plastic for $7.95 or print it at home for free.
Here's an example of an ID created at Homeschool Buyer's Co-op:
Big Huge Labs is another website that offers ID templates. These templates can be used to create any type of ID needed, not just homeschool IDs. Simply upload your picture, choose the color, enter your information, and the website will generate an ID that you can print at home for free. This template is more customizable than the one at Homeschool Buyers Co-op.
Here's an example of an ID created at Big Huge Labs: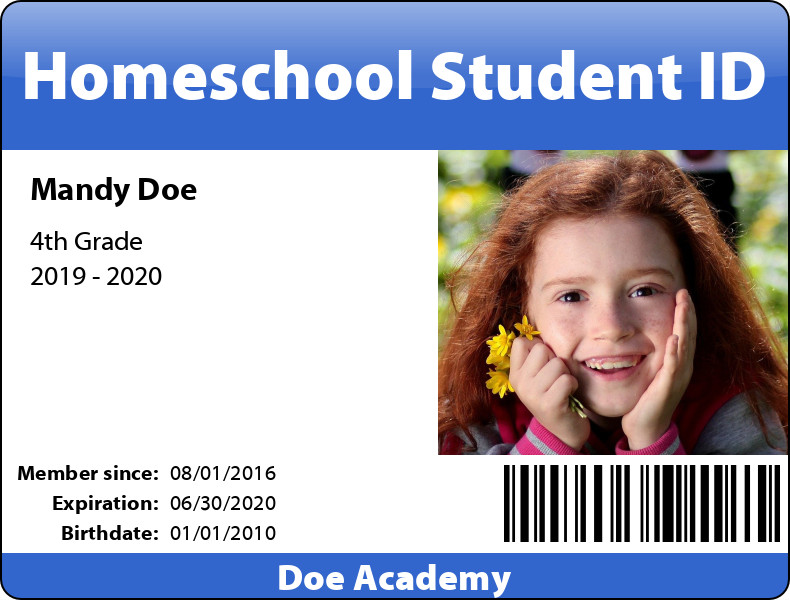 Creating Your Own Custom ID
If you can't find a template that meets your needs, you can always create your own using software like Adobe Photoshop, PicMonkey, or Canva. I recommend using  2.375 inches by 3.625 inches as the dimensions for the ID you create, as this is the size of a driver's license. If possible, look at school IDs in your area to see what information is usually included.
Printing Your ID
Make sure that you print the ID in color using a high-quality printer so that it looks professional. Also, laminate the ID for durability and to make it look more official. If you don't have the equipment needed to print and laminate your ID at home, have it done at your local office supply store.
A Word Of Caution
These homemade IDs will usually work for getting student or teacher discounts. However, they are not official IDs so they may not be accepted in all situations. Your student will need an official ID for things like employment and college entrance exams.