Free History Timelines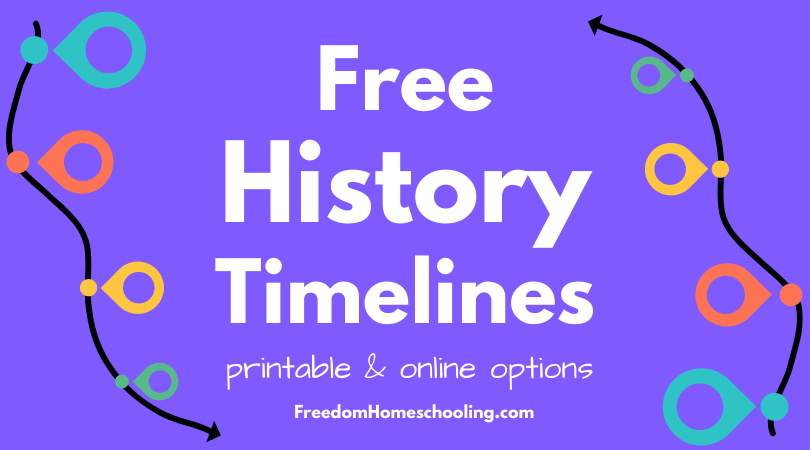 Why Use a History Timeline?
Whether you use traditional textbooks, living books, or online curriculum, a history timeline can significantly increase your children's understanding of history. A history timeline will help your children see the chronological flow of history, make connections between events and people, observe patterns in history, and discover cause and effect relationships in historical events.
Adding historical figures and events to a history timeline, as your children study them, is also a fun way to keep a record of what they've learned over the years. The timeline can also help your children remember key events and people in history.
Fortunately, there are many free online resources you can use to create a history timeline. Below are some of my favorites.
This page contains affiliate links. See our complete disclosure for more information.
Free Printable History Timelines
Print one of these free timelines, hole punch, and place the pages in a binder to create your own history timeline book.
Free Printable Timeline Figures
If your children would like to add pictures to their timeline books, they can either draw their own or use these free printables.
Online History Timelines
These online history timelines can help your children learn more about historical events and find information to add to any of the above printable timelines.
Additional Free History Resources
History and Social Studies Curriculum – Free curriculum for history, social studies, geography, and government.
History Unit Studies and Lesson Plans – Numerous sources of free history unit studies and lesson plans.
Homeschool History With YouTube – Explore history with these YouTube channels.
History Websites for Homeschoolers – Learn about history with these informative websites.
Virtual Field Trips – Explore the world, including many historical sites and museums, through virtual field trips.
Note: This post was originally published on February 3, 2020 and has been updated for accuracy and comprehensiveness.
Our Blog



At the Freedom Homeschooling Blog, you'll find homeschool resources and information, tips for homeschooling on a budget, encouragement, and more! Follow us on Facebook, Pinterest, Instagram, and Twitter, so you never miss a post.